The Readers Theaters are very powerful. They involve students in the exciting and relevant stories of America's past that are not found in today's textbooks. Students can't wait to tell their parents about it.
-T. Crandall, Teacher



Click here for the Teacher Package Brochure
Click here for the Family Package Brochure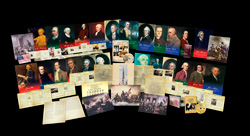 The Cries of Freedom educational curriculum gives meaning and purpose to the Freedom Gallery. It has 74 complete lesson plans with 41 Readers? Theaters plus multiple interactive experiences that personalize the people, principles, and events of America. See a sample of the curriculum here.
Click
here
for frequently asked
questions about the Cries of Freedom curriculum.

Buy our curriculum products HERE